ANNOUNCEMENTS
Check out the 60th Reunion Tab for upcoming Updates!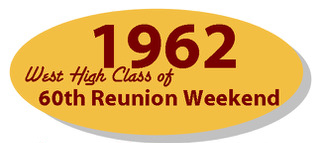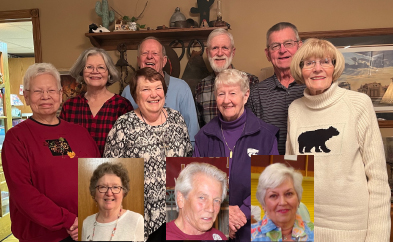 Message from 2022 60th Reunion Committee
Greetings Class of 1962;
It will be a fun weekend and one we'll talk about. Be sure to come and celebrate our 60th Reunion and seeing class members again.
Since our 55th Reunion (2017) we have added 23 Class members & Teachers to the In Memory Page.
We may not get together again after our 60th, but we can still have a virtual reunion on our website any day you post a comment.
Until we see you, October 7, 8, 9, 2022, stay healthily and keep us informed what you are up to. Edit Contact & Profile (email, address/phone, & add facebook name, add a new photos, etc.) on the website. Click on Person Icon above to make changes.

---

All Facebook users - search for our New Private Group Facebook Page -(Wichita West '62 Class)
We'll use this for Quick Notifications about our 60th Reunion in 2022.

You can Inivite other class members to Join the Facebook page.

Most information will be on this website (www.wichitawest62.com) and Sign-up for Reunion. If other class members haven't joined this website you can invite them if you have their email or phone number.
We'll send out messages on Facebook to notify you of any new additions or updates for 60th Reunion.
So let us know if you are on Facebook by adding your User Name for Facebook on this Website on your Profile. (Click on Person Icon and click on Edit Profile to add)
Any questions can be asked on

Facebook

or here at

Contact Us
Hope you'll join the fun and plan on coming to the 2022 Reunion!
More details soon, Committee is working on possible locations and events for a weekend in October. Our next meeting is November 21.
2022 Committee: Marjorie Stephans, John & Karen Kelly, Max Patrick, Roger Sampson, Margaret Meyer, Suzanne Koch, Mike Phipps, Judi Fellers, Melinda Ware & Wilma Wine.
Pioneer Way Sidewalk Class 1962 Bench
ADDED TO WEBSITE OF DEDICATION 4/21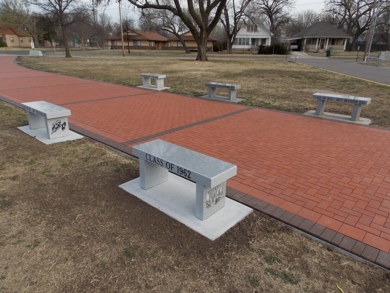 View pictures, in the
Photo Scrapbooks
, that Max Patrick & John & Karen Kelly took. Hope you enjoy and add your photos after your visit.
Individuals can purchase a personalized brick, or 8x4, with your name, a friend's name or someone you want to honor. Profits from the sale go to West High to provide a service to students with academic needs. Price $60.
If you would like to purchase a brick for the sidewalk
click here
to complete a form and description of what you want engraved.
ALL the monies, go to Our School, for Student Assistance/Special Projects, to Enhance/Encourage Education, to the Current/Future Students.
Make checks payable to: : "West High Alumni Association"
Mail order to: West High School, 820 S. Osage, Wichita, KS 67213
updated 4/30/2021
"True friends are never apart, maybe in distance, but not in heart"
This site was created to help promote, celebrate and reconnect with Wichita West class of 1962 classmates. Your participation is essential for it to succeed. We need your photos, updates, and memories to enhance the site. Your fellow classmates will enjoy hearing about you. Even if you haven't attended a reunion, nor kept in touch since high school, we ask that you please take the time to update your profile and maybe add a photo of two. Your additions will make this site fun, interesting and complete.
If this is your first visit, to get you started, please click on "First Time Visit" on the left side of this page. If you have already joined, please log in to view the announcement area.
---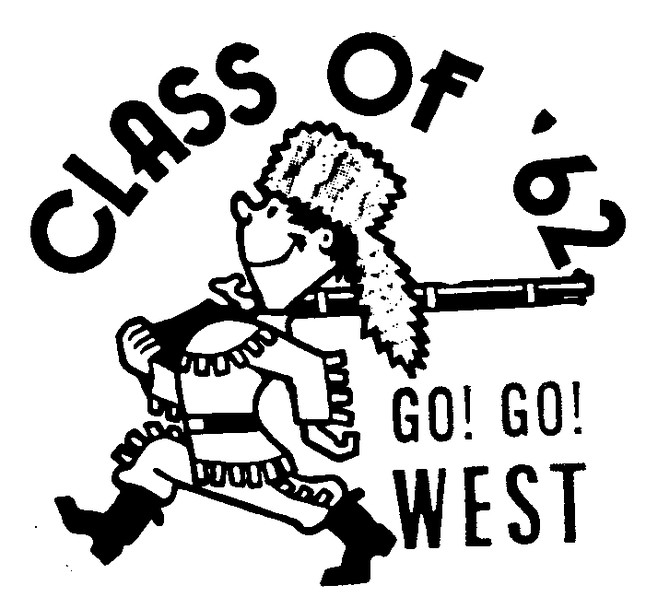 People are checking us out!
Log-in to be counted!
Site Created: 10/17/2011
Home Page Visitors*:
93,325
(*this number is the cumulative total visitors
we have had since creating your web site)
---