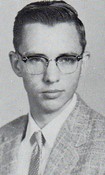 Mr. Leo Conway Brightwell, 50, of Bartlesville, died at 5:15 pm on saturday, July 3, 2004 in the Jane Phillips Medical Center.
Memorial services for Mr. Brightwell will be held at 11:30 A, Wednesday, at the Trinity Baptist Church with the Rev. Edgar Gordon officiating. Cremation arrangements were under the direction of the Stumpff funeral Home.
Survivors include his wife Sharon Kay Brightwell of the home; one son Thad Brightwell of Bartlesville; one daughter Tonya Albarado of Katy, Texas; his father Vernon C. Brightwell of Eldon, MO; one sister Janet Enloe of Henley, MO and two grandchildren, Lauren Ashley, Albarado and Haden Michael Albarado. Mr. Brighwell was preceded in death by his mother, Nina J. Brightwell.
In lieu of memorial fund our family wishes to ask that you consider giving the gift which we received, "The Gift of Life". Become an organ donor.
In addition we wish to thank family and friends for all their supprt and prayer throughout the years.
And it's with our deepest gratitude that we extend our gratefulness to the organ donor family who thru their loss gave us an additional 7 ears of precious memories. For that we are forever grateful.
Bartlesville Examiner - Enterprise