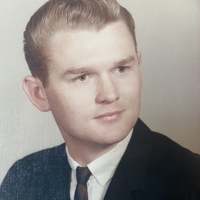 Lawden "Wayne" Patton, 77, passed away Saturday, May 2, 2020. Wayne was born in Pyatt, Arkansas
on April 30, 1943.
Wayne loved taking long walks along the river with his favorite black lab, Velvet. Wayne and Donna
enjoyed the occasional trip back home to the Ozarks and two special trips to Hawaii. They took a cruise
around the islands and stayed at Donna's parent's time share. Wayne enjoyed fishing and hunting for
deer, pheasant and quail. He enjoyed working with his tools, repairing cars and mowers. Wayne loved
music when he was younger and listened to Elvis, Marty Robbins and classic country. Wayne spent time
at the Wichita Senior Center playing pool and joking around with friends. He was a hard worker with a
strong work ethic. He spent most of his years in bottling companies, especially Pepsi-Cola. Wayne was a
sharp-dressed man whether it was the silk shirts of the 70's or the modern sneakers in an array of
colors.
Wayne was preceded in death by his parents, Onus and Lola M. (Lee) Patton; twin brother, Alvis Layne
Patton; sisters, Shirley Downs and Lena Nielsen; and beloved dog, Velvet.
He is survived by his wife of 34 years, Donna Patton; daughter and son-in-law, Kamela (Patton) Craig and
Charles L. Craig; son, Gregory Patton; stepson, Jeff Ammerman; granddaughters, Johanna Patton and
Rebecca Carpenter; step granddaughter, Cleona Craig; grandsons, Garrett Carpenter and Cristian Patton;
step grandsons, Gage and Keagan Ammerman; brother, Odean Patton; sisters-in-law, Irene Patton and
Donna Patton; numerous nieces, nephews and cousins.
Celebration of Life to be held in Wichita, Kansas, will be announced at a later date. Private interment of
ashes at Patton Cemetery, Pyatt, Arkansas.
Baker Funeral, Wichita