Created for information about Reunion Oct. 7-9, 2022
Planning & After Registration goes online.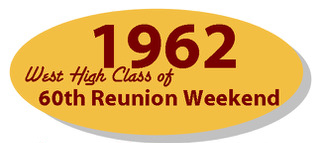 Email Sent:

03/16/22 04:28 PM

60th Reunion Details
Notes: Class members to Register for 60th Reunion

169

Sent

151

Read
Check you spam folder, if you didn't get, It may have come from my name: Karen Dowler Kelly. I've changed, hopefully, and next emails should come from Wichita West '62.com
Dear $first_name$,
Hope all are well and your'e ready to attend another or first Class Reunion - 60th! It may be the last Big reunion planned. We're not getting any younger and our spunk is slowing down. The Committee is working hard to complete all the details for a great weekend. But we need you to register to confirm our counts for the weekend. Attaching a 60th Reunion Schedule with details and cost. We need you to go online to submit your 60th Reunion Registration. When completed it will send you an email with what you signed up for and a total amount due. When completed it will have Marjorie Wright Stephans address listed for you to mail your check. We'll get a copy via internet of your registration. Don't forget to put name of partner if they are coming.
If you know a class members phone number and they don't have an email, please call them and invite them and we'll mail a paper copy of Registration. Confirm there address for us.
If any questions or problem registering, email or call Karen Kelly, webmaster, at info@wichitawest62.com - 316-655-7840.
Lookimg forward to seeing you October 7-9, 2022!
WEBSITE: www.wichitawest62.com FACEBOOK: WICHITA WEST '62 CLASS
Reunion Commitee,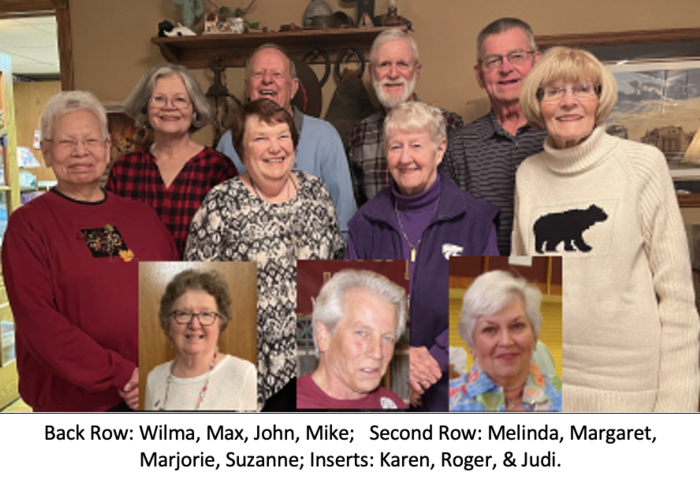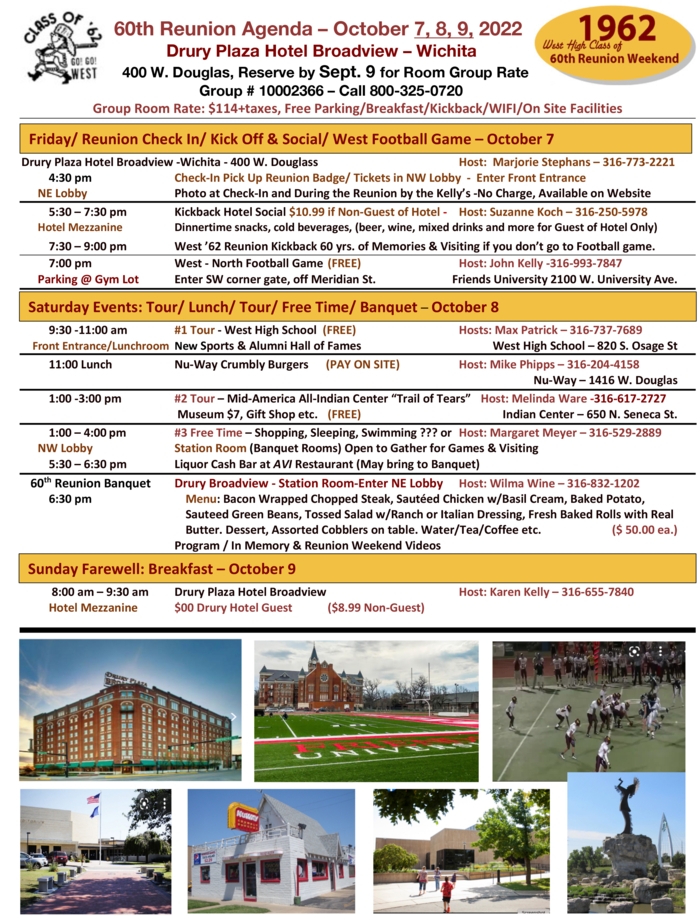 ---
3/09/2022 -60th Reunion Registration Online to Register for 60th Reunion
> CONTACT US < TO GET A PAPER COPY mailed to you. Then mail REGISTRATION TO CLASS MEMBERS THAT ARE NOT ON WEBSITE OR DON'T HAVE EMAIL Or click on > forms below < to download to print copies.
OPEN AND PRINT ONE PAGE OF EACH SHEET OF PAPER. Only need to mail the Ticket Order with check to Marjorie.
> DETAILS OF REUNION < MAIL IN THE < TICKET ORDER > FORM WITH CHECK.
1/31/22 From Announcements
Greetings Class of 1962;
It will be a fun weekend and one we'll talk about. Be sure to come and celebrate our 60th Reunion and seeing class members again.
Since our 55th Reunion (2017) we have added 17 Class members & Teachers to the In Memory Page.
We may not get together again after our 60th, but we can still have a virtual reunion on our website any day you post a comment.
Until we see you, October 7, 8, 9, 2022, stay healthily and keep us informed what you are up to. Edit Contact & Profile (email, address/phone, & add facebook name, add a new photos, etc.) on the website. Click on Person Icon above to make changes.

www.wichitawest62.com
---